Compared with men, women's standards for beauty are obviously more demanding. After all, natural sensible women have a keen intuition, which is much more brilliant than a man's rational mind in distinguishing beauty. Thus, the beauty and styles of the watches designed for ladies must reach a new height. Recently, Shenzhen Super Time (the operation center of Swiss brand --- TOPHILL in China Mainland) listed a new Simple Series of ladies watches. There are variety of styles of this kind of watches. You could feel the intellectuality, the elegance, the leisure and the simple from them. Then, we offer the ways to take the fashionable ladies to look for her trail. Shenzhen Super Time, the operation center of TOPHILL, a famous Swiss Brand in China Mainland, based on HongKong, you could get this simple style of minimalist watches here. You could get them easily and without any annoyance of your fashion anymore.


There are many kinds of beauty in the world, with an old saying goes, "There are how many kinds of beauty as well as how many women in the world." It's the same on the watches, beauty is a miracle that can't be created in the end. Although Super Time had released many kinds of lady watches, after this model of wristwatch (TS003L) came to market, it still caught our eyes exactly. Through its updrade of color, layering and exquisite decoration, its appearance realized the perfect combination of modern and traditional, showing a more pleasing fashion sense.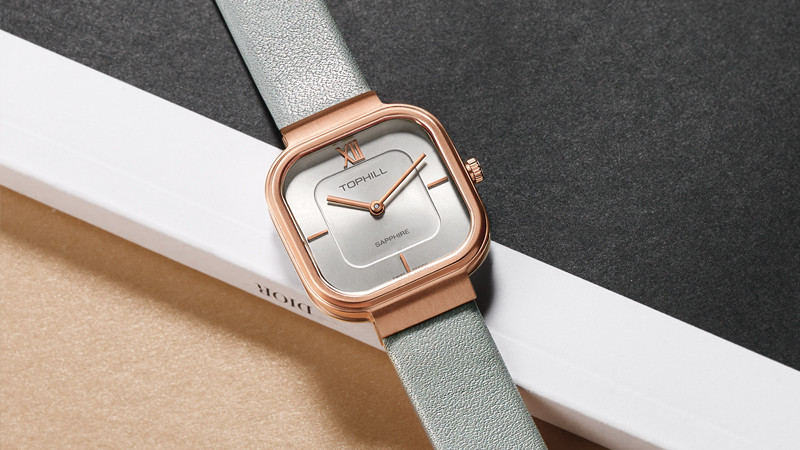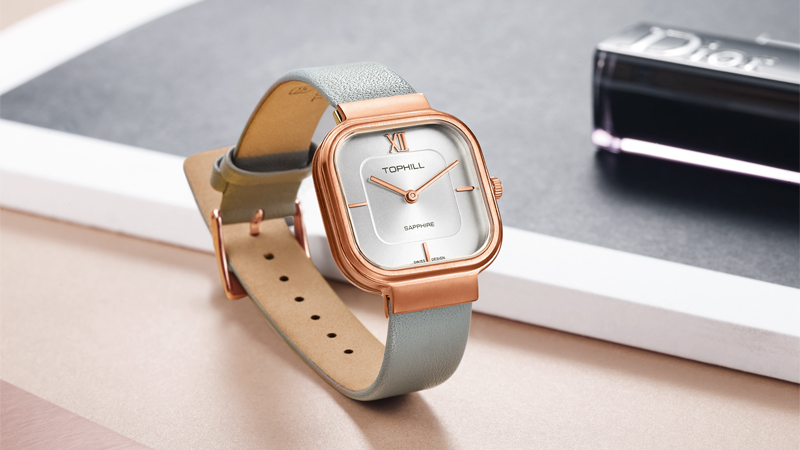 There are 2 kinds of watch bands including mesh band and genuine leather strap in this new style wristwatch. There are 4 colors ( black, white, gray, red) on genuine leather strap, and 2 colors (rose gold, black) on mesh band. Each of these straps has its own beauty. The red strap is very festive, intellectual and charming; the black strap is dignified and elegant, is very temperament; the gray strap is naturally refreshing, small fresh, and very temperate; the white strap is clean, comfortable, and show your attitude of your life; and the rose gold mesh band just put you in the noble but casual position. Each of strap could make you easy to handle most occasions, stylish and versatile, you could be yourself at any time.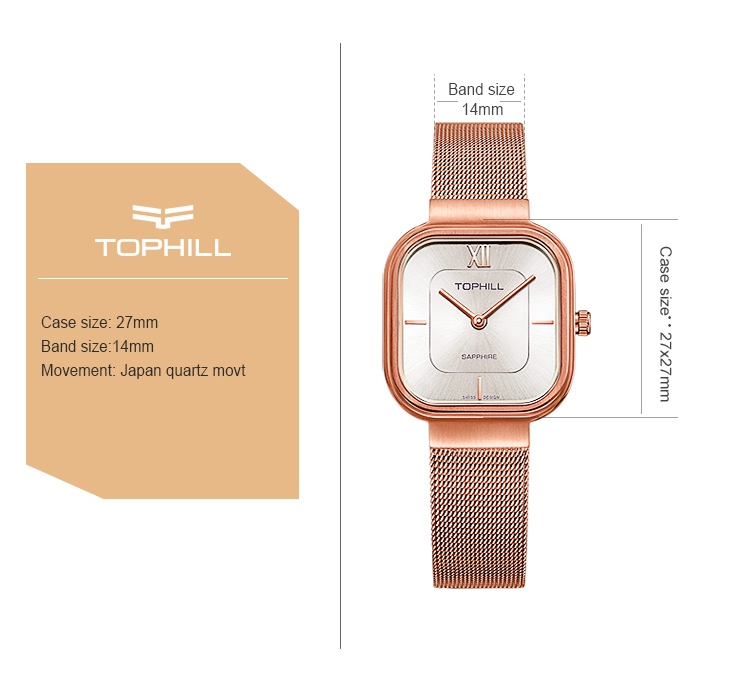 27mm case size makes this watch is really exquisite, it is perfect matching for ladies, and show us the blandness of ladies.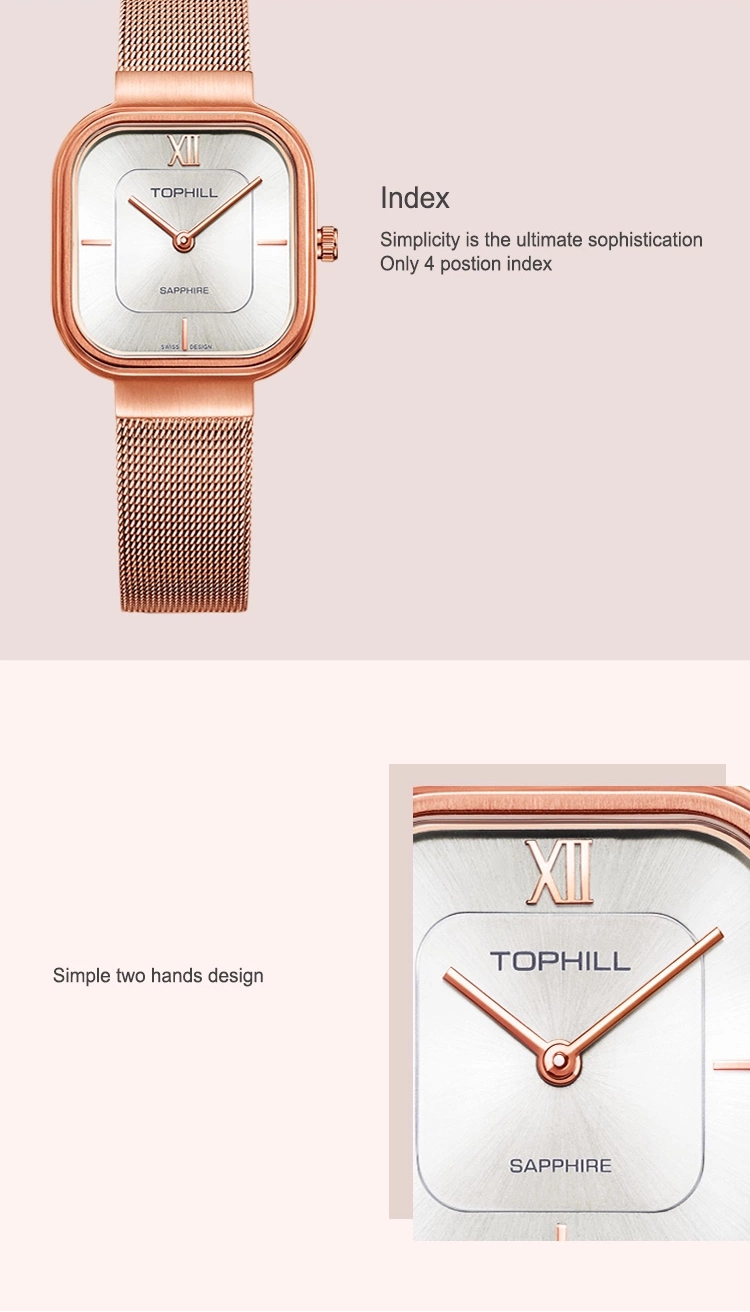 Not only the surface of the watch is beautiful, but the back case is also charming. The stainless steel smooth back case fits perfectly to skin, no matter you sweat, or wash your hand, that would be no trouble for you. Although it is simple, we could still feel the preciseness of Swiss Made technology. You do not need to understand it, it just records the time for you accurately.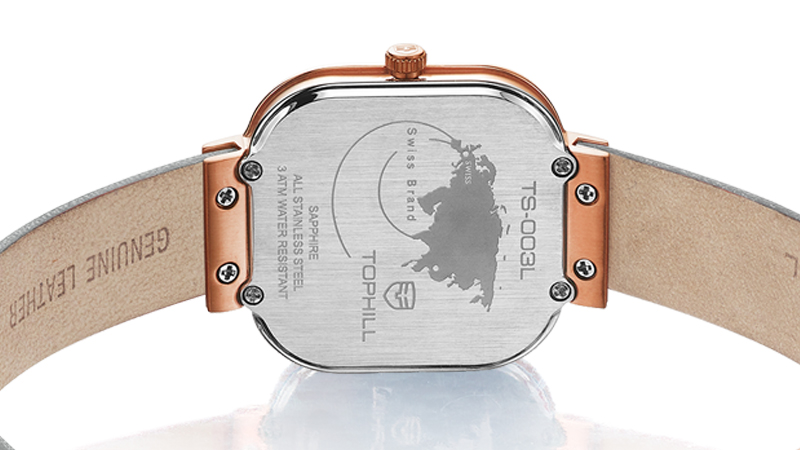 Some other points of this watch
Sapphire Glass: Provides a protective layer resistant to scratches and protects the face of your timepiece;
316L Stainless Steel Case is the quality standard for a premium watch;
Genuine Leather Strap will durably compliment any of your professional or casual looks;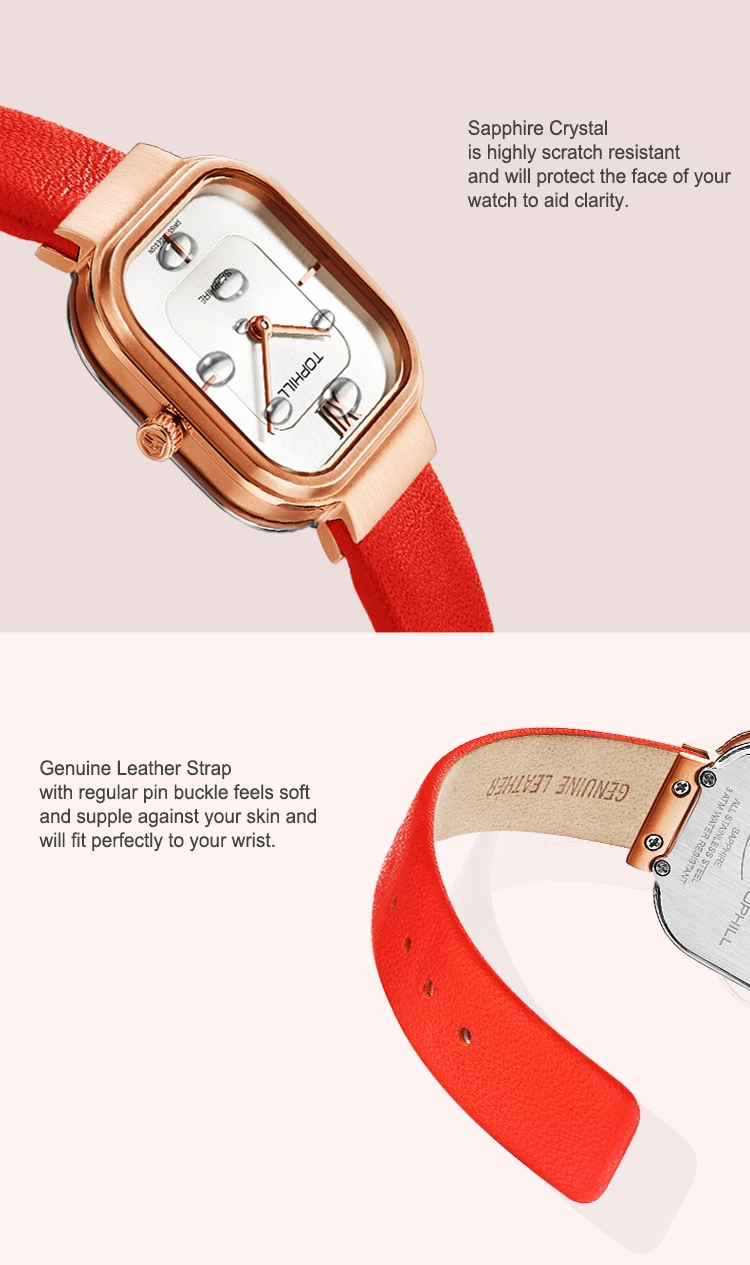 It`s a timepiece that catches the eye, and i`ve received comments every time i`ve worn it;
The build quality is fawless, the design classy;
The watch comes in a 27mm steel case with a simple of finishes. This gives it a simple aesthetic that will age gracefully with some honest wrist wear. Lug-to-lug on this watch is close to 16mm, making it pretty comfortable on ladies wrist.
In the world of watches there are many inspiring stories and technical innovations, but few timepieces have made as big an impact on the world. "value" inevitably becomes the first and most significant factor in determining worth with an independent watch brand, and I believe SUPER TIME balances quality with cost in some unique and clever ways.
Watches as an important ornament should not be burdened and cumbersome, especially when you are wearing suits.
Light and convenient without losing elegant and fashion that is the appearance of this watch advantage.
Advanced manufacturing technology and fashion design, comfortable wearing experience, protect your wrists.
The IP plating of this watch is different from other inferior plating, it is expensive with a luxurious appearance.
If you are interested in this, you should contact Super Time with no hesitate now.
Visit your favorite style on: www.supertimewatches.com

Contact: Simon Shawn
MOB:+86-19928782369
TEL: +86-755-82211239
FAX: +86-755-82211987
E-mail:merchandiser.s@supertime.hk